Dental Implants – Annapolis, MD
Dental Implants Improving Annapolis Smiles
If you are missing one or more teeth, dental implants are a wonderful option to permanently replace your missing teeth. Dental implants are one of the most effective, modern tooth replacement options available. A dental implant, which is made of titanium, is surgically placed in the jawbone to replace the root of the tooth and provide a secure foundation for dental restoration. Call to find out more about your tooth replacement options or to schedule your consultation to discuss tooth replacement with dental implants in Annapolis, MD.
Why Choose Chambers Family Dentistry for Dental Implants?
Start-to-Finish Dental Implant Treatment In-House
Family-Owned Dental office
Digital, Putty-Free Dental Impressions
What Are Dental Implants?
Dental implants go a step beyond other options for tooth replacement. The implant itself is a small post that is placed into the jaw during oral surgery. Because it's made from a biocompatible material, your jawbone naturally grows attached to it. From there, the implant can support any number of prosthetic teeth for many years to come, and you'll never need to worry about these teeth slipping or falling out of place.
The 4-Step Dental Implant Process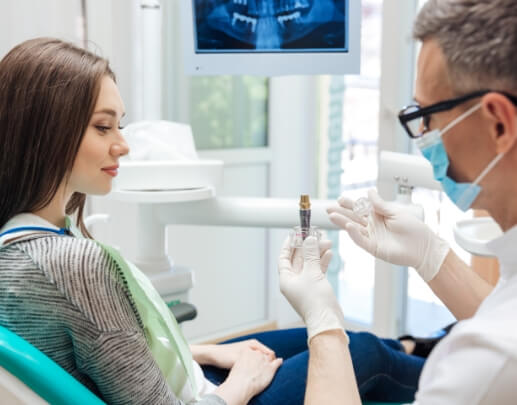 Getting dental implants requires a lengthier treatment process than traditional prosthetics but believe us when we tell you this solution is worth the extra time and effort! Better yet, our Chambers Family Dentistry team can perform every phase of the treatment right here in our dental office. Unlike many general dental offices that need to refer their patients out for dental implant surgery, our dentists can streamline your care by handling the entire process under one roof. With that said, here's a basic outline of the four steps involved in getting dental implants.
Initial Dental Implant Consultation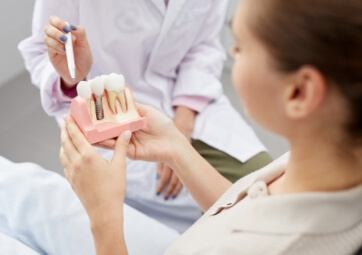 First things first, we'll need to determine whether you're a good candidate for dental implants. This is accomplished by attending a consultation with one of our expert dentists. They'll review your medical and oral health history to find out whether you can proceed with treatment right away or if you need one or more preliminary procedures,
such as gum disease therapy, before dental implants can be placed. Then, we can walk you through the rest of the process and answer any of your questions about how dental implants work in Annapolis.
Read more
Read less
Dental Implant Surgery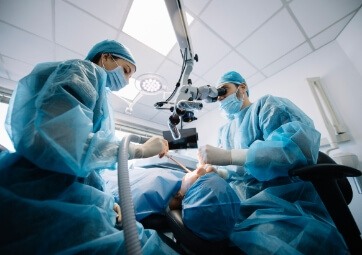 Because of our team's advanced training, we make your tooth replacement journey much more convenient by being able to surgically place implants in-house. You can rest easy knowing your smile will be in the hands of a team you already know and trust.
The details of dental implant surgery vary based on the number and location of the teeth being replaced, but the basics remain the same. We start by using local anesthesia and dental sedation to ensure your complete comfort. Then, we make a small incision in the gumline. Next, a dental implant is positioned, and a protective cap is attached to the implant post before closing up the gum tissue. This cap maintains the proper shape of the gums throughout the healing process.
Read more
Read less
Dental Implant Osseointegration & Abutment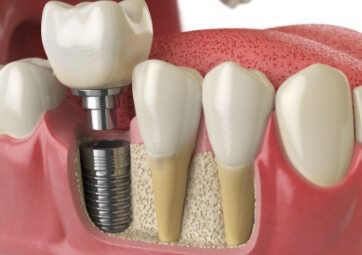 For the next three to six months, the surrounding gums and jawbone tissue will grow around the implant posts, mimicking the structure of natural tooth roots. This process, called osseointegration, is the key to what makes dental implants so unique and successful.
Once we've verified that osseointegration is complete, we'll schedule another smaller surgery for you to receive your abutments. These are small metal attachments that we place on top of your implant posts, and they're what allow us to secure your final restoration into place. As you spend a few weeks recovering from the abutment surgery, your restoration will be crafted in a dental lab from impressions that we've taken of your mouth.
Read more
Read less
Delivery of Dental Implant Restoration(s)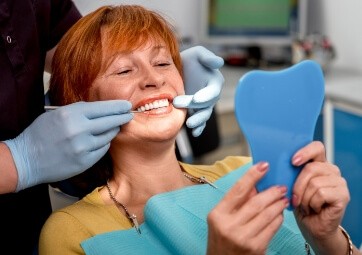 After you've fully healed from your abutment placement, it's time for the moment you've been waiting for – getting your brand-new pearly whites! You'll return to our dental office, and we'll attach your dental crown, bridge, or denture (depending on how many teeth you're replacing) to your abutments.
This restoration will have been tailor-made to resemble the teeth you used to have, so once it's placed, no one outside of our dental team even has to know!
Read more
Read less
Benefits of Dental Implants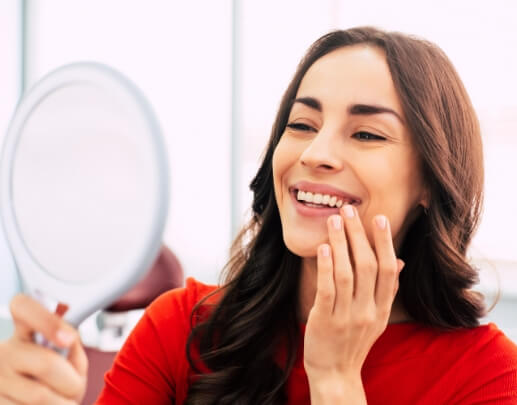 Since dental implants are meant to replace the root of the tooth, not just the crown, you can expect many restorative benefits. Not only do implants help you regain your fullest biting force possible, but they also help you maintain your youthful appearance. A restored root makes it easy for blood to flow to your face, helping you prevent premature sagging and a hollowing out of the cheeks. A stronger biting force simply means that you'll be able to eat all the tough foods you may have struggled with in the past.
Furthermore, dental implants are meant to last for decades without the worry of failure. In fact, their success rates reach as high as 98 percent after 10 years. This proves them to be a tooth replacement option that you can rely on!
Indications for Dental Implants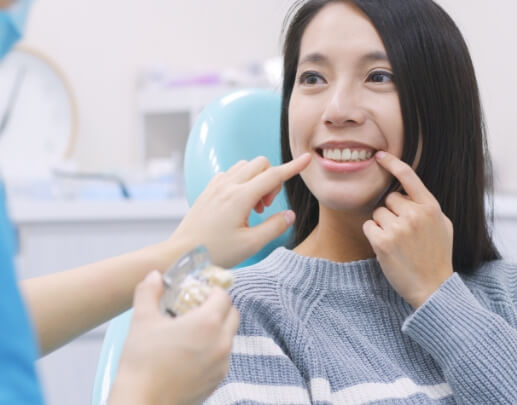 Our experienced dentists at Chambers Family Dentistry will help you determine which type of dental implant restoration will best fit your needs. Consider your options below!
Missing One Tooth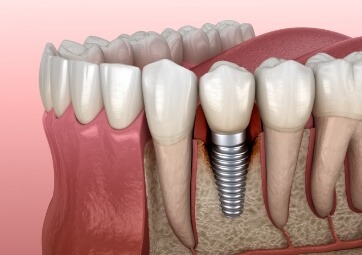 We'll place a single dental implant and attach a crown shaded to match your natural dental structure to replace one tooth. In most cases, we can fuse two dental crowns and attach them to a single implant post.
Missing Multiple Teeth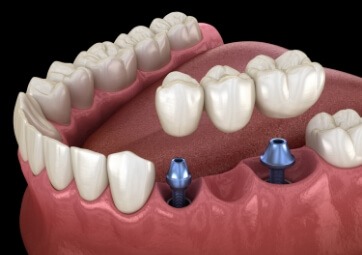 Like traditional fixed bridges, the implant-supported variety includes two dental crowns that support one or more replacement teeth known as pontics. However, rather than attaching to surrounding teeth for support, these implant-supported fixed bridges are affixed to dental implant posts for a more natural tooth replacement solution.
Missing All Teeth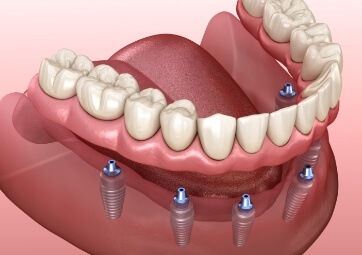 Like removable partial and full dentures, dental implant prosthetics are used to replace a number of consecutive or nonconsecutive teeth or a full arch of teeth. These extensive tooth replacement solutions pair a gum-colored base with tooth-colored replacement teeth to create one tooth replacement prosthetic that restores numerous lost teeth.
Rather than relying on surrounding teeth or gum tissue for support, partial and full dentures are supported with four to six dental implant posts.
Read more
Read less
Missing All Teeth with Low Jawbone Density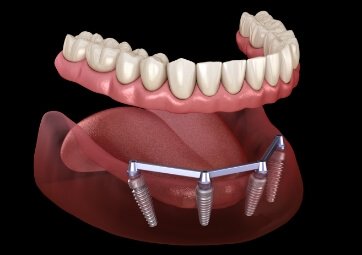 All-on-4 is a unique tooth replacement solution that allows our team to attach a full arch of replacement teeth to four implant posts. Unlike traditional implant dentures, the All-on-4 treatment technique allows us to utilize the naturally denser portions of the jawbone. Instead of positioning implants vertically across the jaw, the All-on-4 procedure
places two vertical implant posts at the front of the jawbone, and two diagonally positioned implants that run from the back of the mouth into the front portion of the jawbone, providing support for the entire denture without the need for advanced bone grafting or other invasive procedures.
Read more
Read less
Understanding the Cost of Dental Implants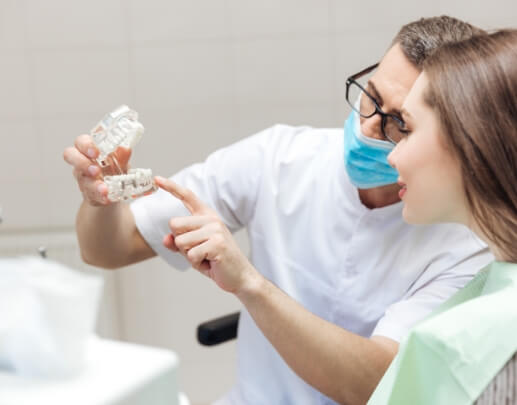 There is no single estimate for how much dental implants will cost. Some patients only need one implant while others could need as many as six. Sometimes, multiple preliminary treatments could be required while in other cases, we can move on to the implant placement stage right away. Regardless of the final price, our team will work with you to make sure that the treatment is as affordable as possible. Here are some things that you should keep in mind when considering the overall cost of implants.
Preliminary Treatments & Dental Implant Surgery
Gum disease therapy, tooth extraction, and bone grafting are common examples of preliminary treatments that are often performed before dental implant placement. While they might add to the overall cost of the process, they're well worth it to make sure that your new smile is a success. These procedures are normally partially covered by dental insurance.
Implant surgery has its own cost, which can vary depending on the surgical site and the use of sedation. We can place dental implants ourselves, so there's no need to stress out about getting a bill from a separate specialist.
The Parts of Your Dental Implant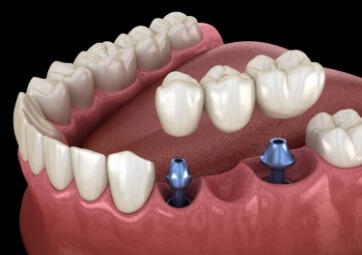 The cost of implants will change based on the following factors:
The number of implants needed, which usually depends on how many teeth are missing
The type of restoration (crown, bridge, or denture) that the implants will support, with smaller restorations naturally costing less
The type of material used to make the dental implant posts and the restoration
The brand of dental implant that we select
If you have any questions about any of the above factors, let us know so that we can explain them in detail and help you get a firm grasp of why you'll end up paying a certain amount.
Read more
Read less
How Dental Implants Can Save You Money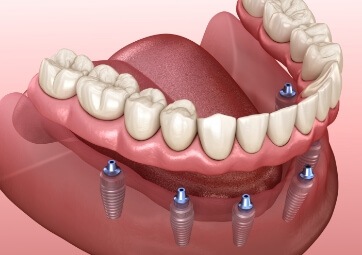 If you just look at the initial price, dental implants are more costly than traditional dentures and bridges. But the big difference is that traditional tooth replacements only last for about 5 to 10 years at a time whereas you can keep the same dental implants for 30 years or more.
Also, dental implants are very easy to clean, so they can help you avoid gum disease and other oral health issues that you would otherwise have to pay to treat.
Read more
Read less
Does My Dental Insurance Cover Dental Implants?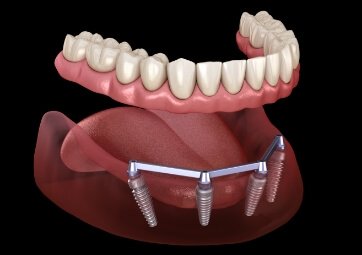 It depends on what plan you have. Most insurance companies won't pay for the implant posts but are willing to at least partially cover the cost of preliminary treatments or the final restoration. Our team works with a variety of insurance carriers, and they have plenty of experience helping patients figure out their benefits and the best strategies for maximizing them.
Dental Implant Frequently Asked Questions
Our experienced dentists will carefully walk you through the dental implant process and take the time to answer all of your questions so that you fully understand how your new teeth will work and what needs to happen to place them. There are some questions we hear more often than others, so for the convenience of our patients, we've decided to list the answers here. Don't be afraid to reach out if you'd rather speak with our team directly.
How Long Do Dental Implants Last?
Dental implants are generally estimated to last 30 years or longer. However, their exact lifespan can vary depending on the care that they receive. Implants don't require especially complex maintenance; you can brush and floss them as if they were natural teeth in order to keep them in good condition. To that end, make sure that you're brushing and flossing at least twice every day, and don't forget to visit our team every six months for a dental checkup and cleaning. Also, try to avoid bad habits like crunching on ice or opening packages with your teeth, as they can end up causing unnecessary damage to your implants.
What Can Cause Dental Implants to Fail?
Implant failure is rare, but it's still something that you need to keep an eye out for. Most of the time, it's either caused by a form of gum disease called peri-implantitis or failed osseointegration. Chronic teeth grinding, smoking, and certain medications can also contribute to dental implant failure. It's important to be aware of your risk factors so that we can help you take the appropriate precautions to maximize your chances of success. That's why we'll carefully go over your dental and medical history with you during your initial consultation.
Is There Anything I Shouldn't Eat with Dental Implants?
One of the advantages of choosing dental implants over traditional dentures and bridges is that there are little to no dietary restrictions to worry about. While you will have to maintain a diet of soft foods such as yogurt and oatmeal when you first get your implant posts, you'll be able to eat whatever you want once your mouth heals. That said, you still need to protect your implants the same way you would protect your natural teeth. That means being careful around hard or sticky foods that could lead to cracks, chips, and other types of damage.
What Is the Right Age for Dental Implants?
Dental implants should only be placed in the jaw once it is completely finished growing. As such, implants usually aren't placed in patients younger than the age of 18. Some people might have to wait a little longer than others. There are cases where jaw development doesn't end until the mid-20s, and men's jaws typically take longer to finish growing than women's jaws do. Note that there is no real upper age limit for dental implants; you are considered a viable candidate as long as your mouth and jawbone are healthy.